How do our tents get their names?
You have may noticed by now that many of our tents have very unique names. Like the Kambaku, Mambrrr, Phelwane and so on. Those names pay tribute to the legendary and magnificent elephants of Africa, past and present. The founder of Exclusive Tents Paul Zway worked as a game ranger in Kruger National Park for 17 years. Paul worked closely with some of these elephants with some of them frequenting the sections he worked on. 
Even though some of our tent names may be difficult to pronounce, they are all named for these legendary smart animals.
Before we got around to naming our tents giving tribute to these beautiful beasts, we initially named the tents mainly after African landscapes, trees and birds but recently some other tent companies have copied and are using these tent names to divert sales and internet searches to their websites, which is causing a lot of confusion in the market. 
Even though copying is possibly the best form of flattery, we have decided to change all these names and attributing them to more elephant names which will coincide with the launch of our New Website.
We feel that our tents greatly relate to elephants in their strength, size, longevity, beauty and grandeur. As elephants are majestic in their environment so are our tents.
The elephant has no natural enemies (except for man) even though the males tend to fight from time to time, our tents only find a harmony in their natural environment.
Some of the new tent names are from Southern and East African elephants, male and female alike.
Photo credit above to: Rex/Shutterstock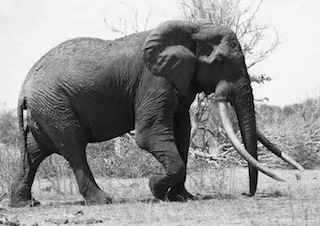 Satao Satao was an African elephant that lived in Tsavo East National Park, one of the largest wildlife parks in the world with a large population of elephants. He was thought to have been born during the late 1960s and to have been at least 45 years old when he was...