The Ranger Tent
The Ranger tent is crafted with the perfect blend of quality, durability, and versatility. It was designed for those who want a luxury tent, but are working within a more modest budget – simple. It's a great option as a small Airbnb / Vrbo or for those who want to start a Glamping retreat without spending too much out the gate. Always wanted a small guest house on your property? This is a phenomenal way to make that happen fast and easy. Exclusive Tents International is globally known for making the best tents in the world and this newest design is no different.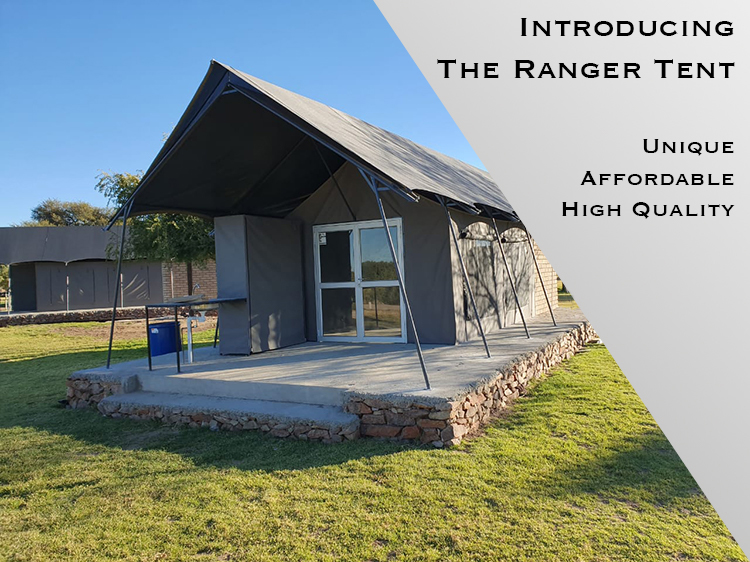 3.5m x 4.5m body
Overall livingspacee
50 mm Enamel Painted Mild Steel Frame and Timber Mounting Brackets Stainless Steel Roof Tensioning System and Eve Ends (Industry standard is 38mm, powder coat finish)
90%+ Shade Fly, seams stitched with Gore® Tenara® thread (Thread 10 year warranty: UV, sunlight, chemicals, saltwater, extreme weather & acid rain)
Welded 700GSM Anti Fungal PVC Rain Fly
550GSM Blockout Ripstop Standard Canvas Body with these properties: waterproof, uv protection & anti microbial
Ecru Inner Ceiling Liner and Window Curtains
Ceiling Fan/Light Mount on each apex
Heavy Duty Aluminum Railing System for securing the walls to the platform
Graphite coated window screens
Clear PVC window overlays
Inside and outside zip/roll canvas window storm flaps with replaceable zips (a very unique feature)
Canvas zip/roll up door with replaceable zips (a very unique feature)
Zip up entrance door
Durable YKK Zips
Covered veranda with canvas inner ceiling liner and fan/light mount (when applicable)
Aluminum Body Poles
Installation hardware
Available Upgrades
  Vertical steel legs and outriggers
  304 grade stainless steel frame
  Enamel Painted 409 stainless steel frame
  316 marine grade stainless steel frame
   Fire Retardant canvas body, rain fly and shade fly
   Insulated Canvas
   Insulated canvas storm flaps
   Covered veranda
  Aluminum framed double glazed doors and windows
  Stove jack for a wood burning stove
  Timber vertical legs
  Timber horizontal beams
   High wind speed upgrade
Where can you put the tents?
We can customize the tents to handle any environment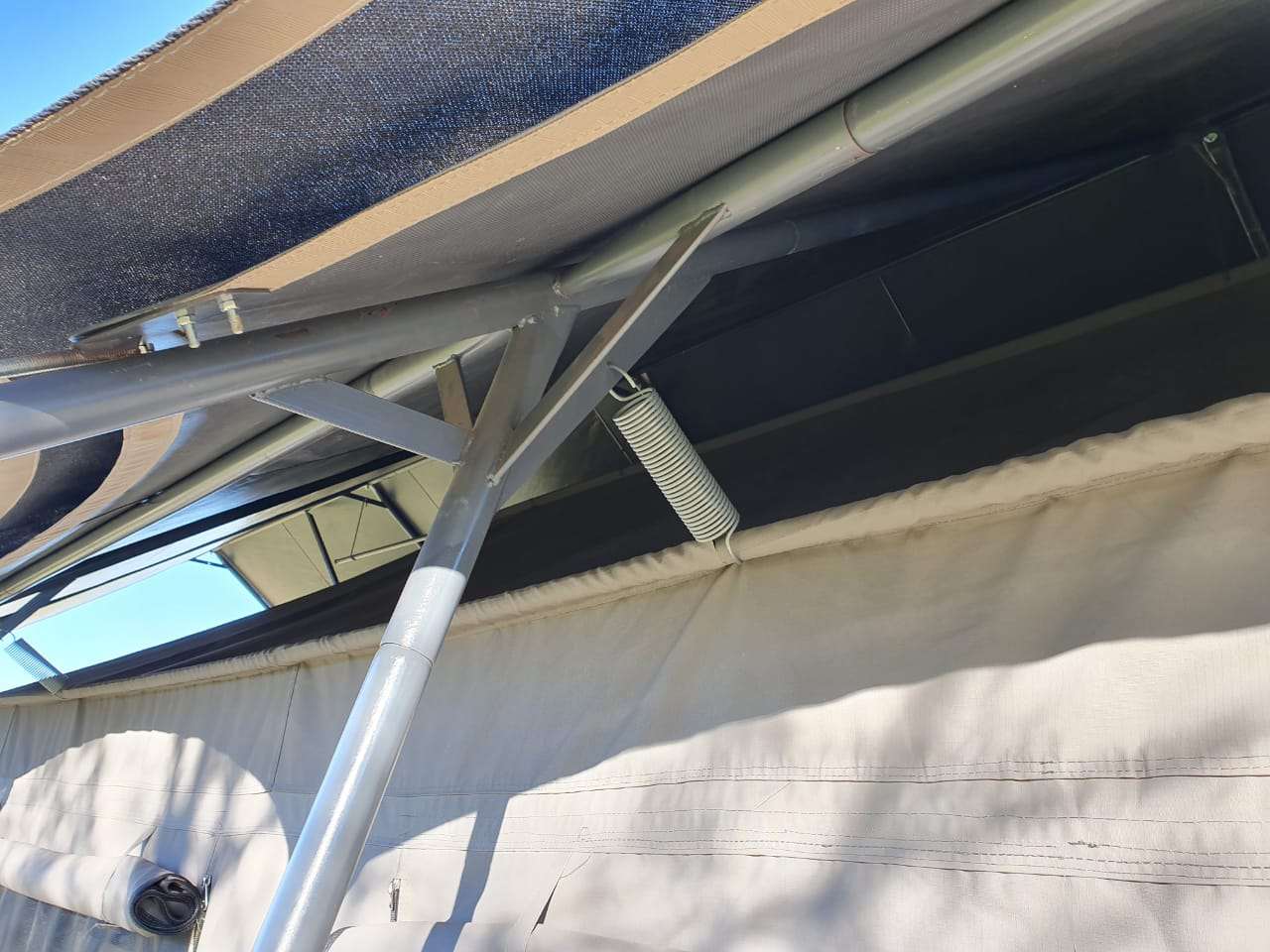 How does The Ranger Tension?
The Ranger's body tensions to the roof frame by a spring. The spring allows the walls of the tent to remain tight, and will never lose strength.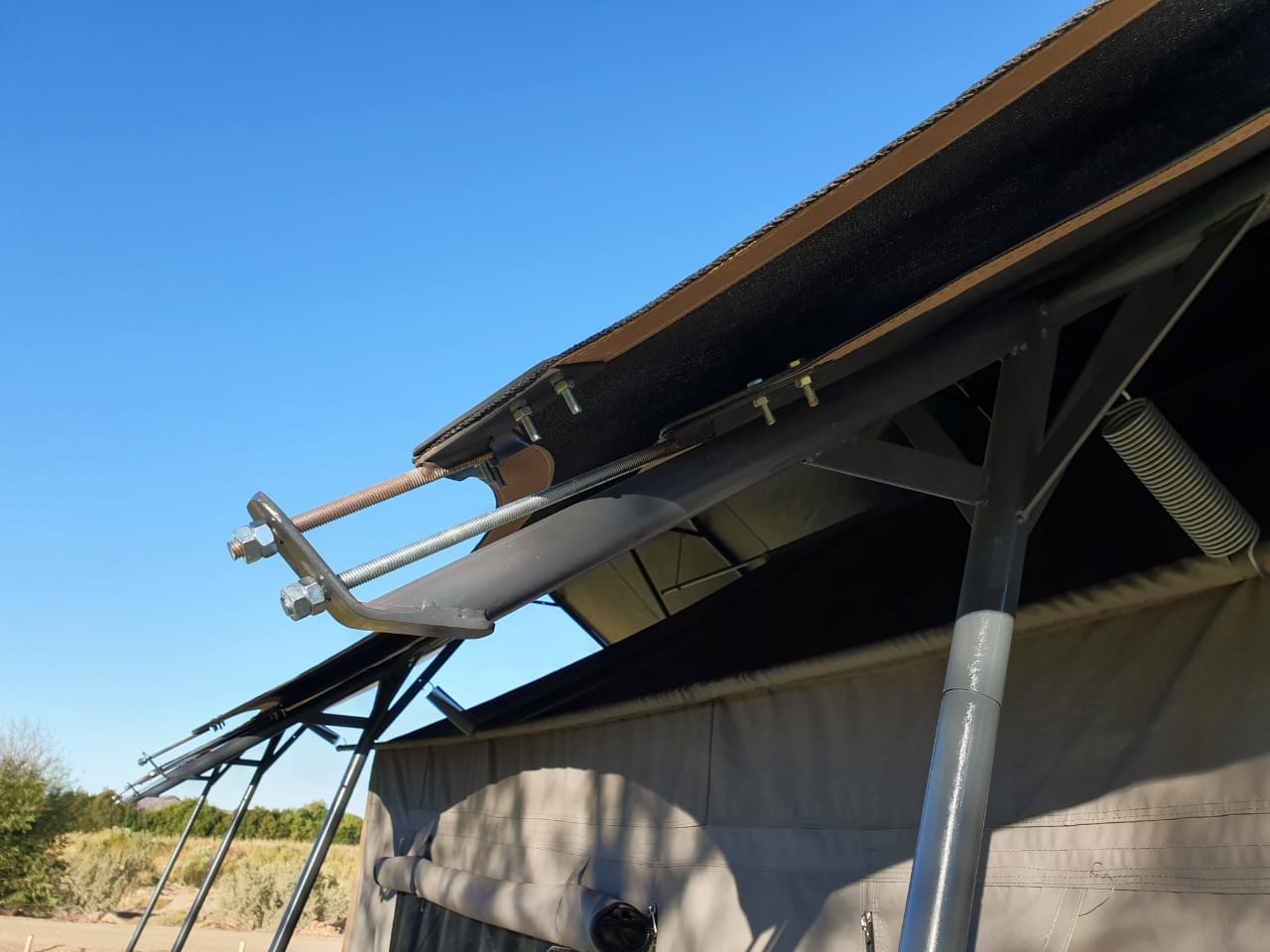 How do the fly's come together?
Like all of our designs, the Ranger uses our multi layer roofing system. The most outer layer is the Shade Fly, and under that is a PVC rain fly. At the end of each fly is a metal rod, that goes into a footing at the end of the frame.
This will keep the flies tight on across the tent. If they ever need to be adjusted as the fabric settles, you can tighten the bolt at the end to make it tight again.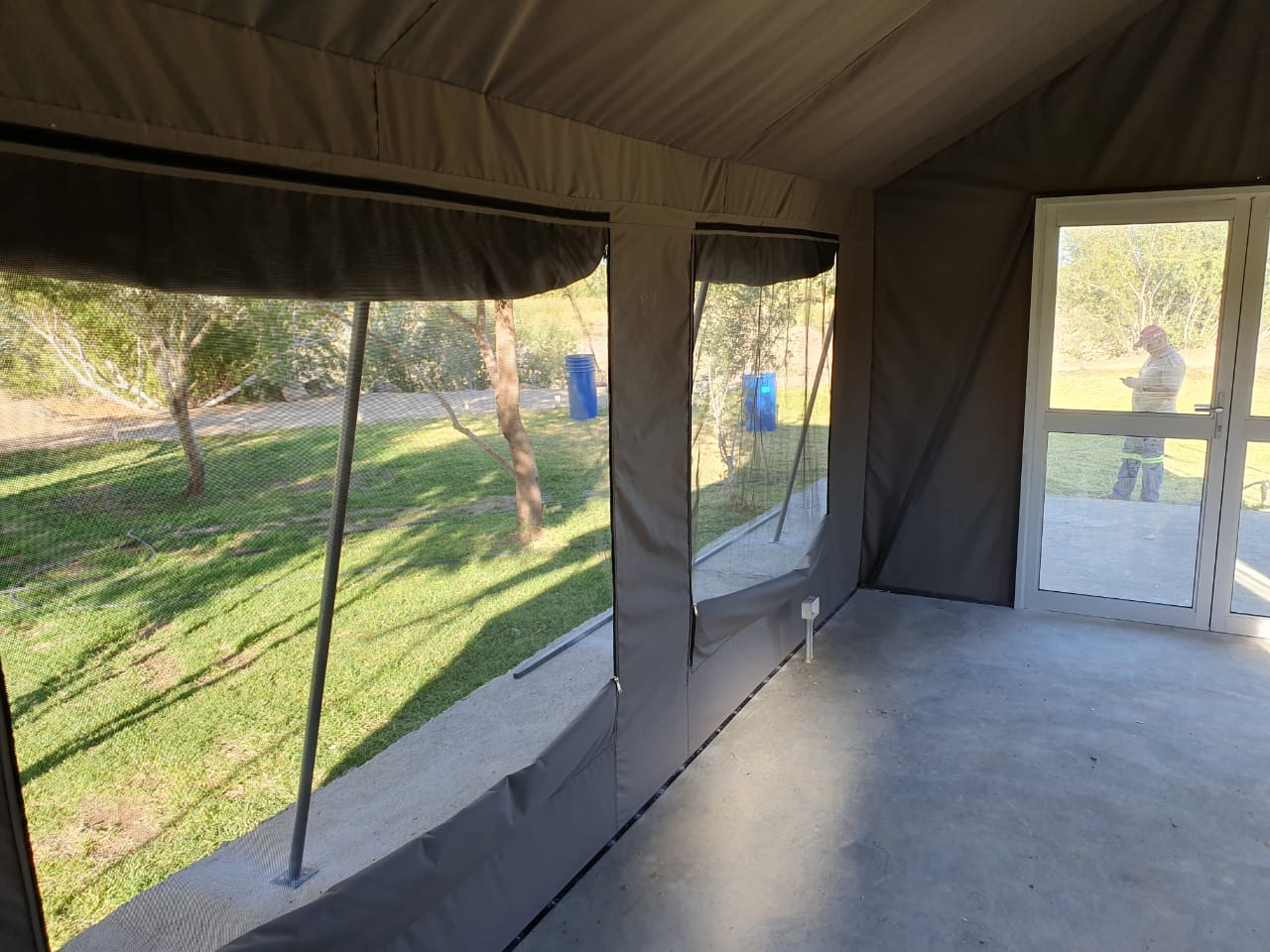 Tell me about the canvas
The Ranger will come with a 420 gsm acrylic treated polyester ripstop fabric. Our standard canvas is waterproof, and has a UV resistant and fungal resistant compound applied to it. The screen on the windows will be a graphite screening. Which allows for a clear view of the outside, unlike a standard screen material.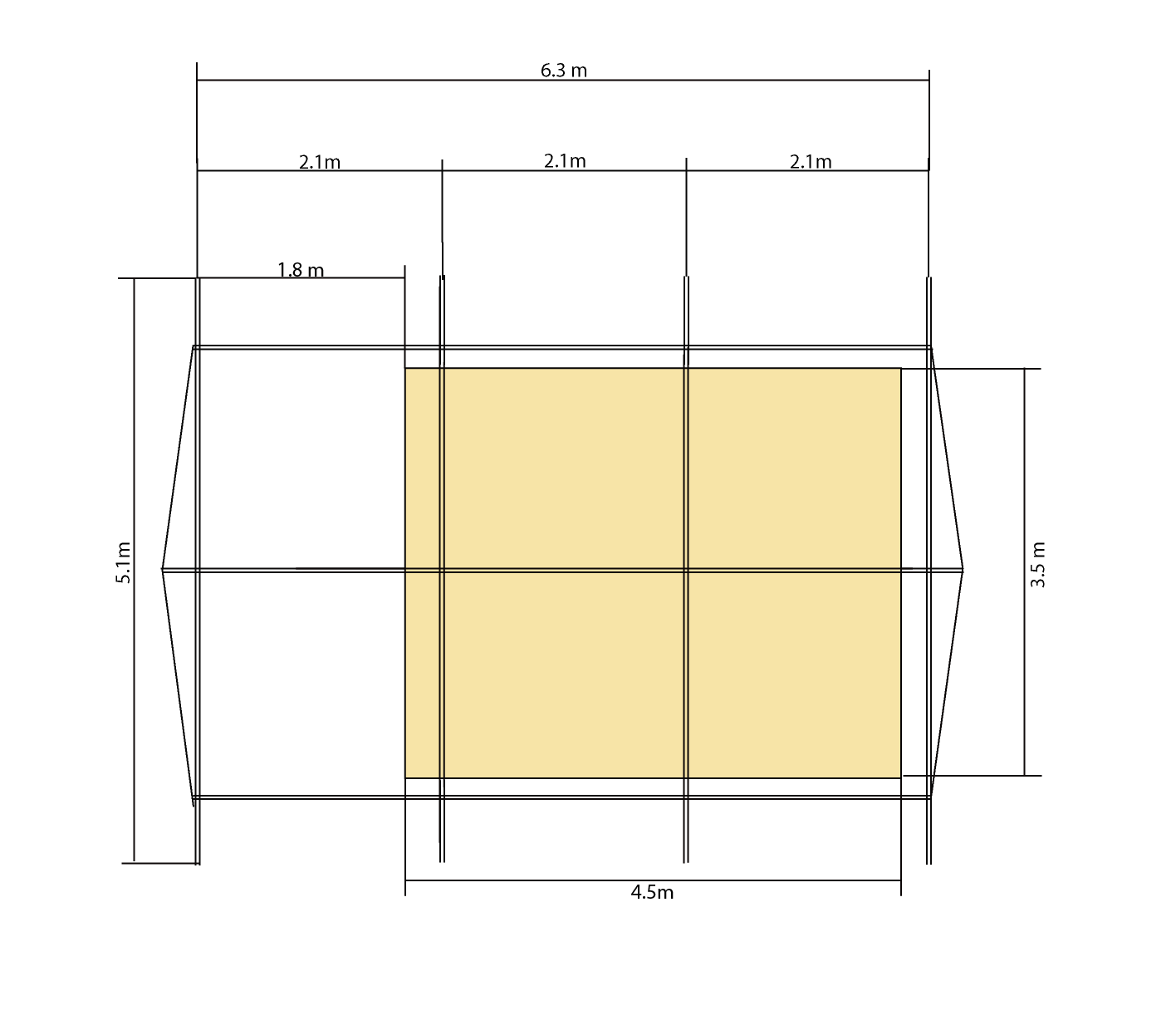 A few things to consider
This tent requires a simple platform for it to be placed on. Minimum platform dimensions are 6.6m x 5.7m (21' 8" x 18' 9")
Manufacturing lead time is: 6 – 8 weeks
Ocean freight shipping average: 30 – 45 days
Air freight shipping average: 5 – 7 days
.